Having a professional law office mailing address is a must-have for solo attorneys who work from home. You want clients to find your business, not your home and believe they are getting a "real" attorney. Here are the top 3 reasons your mailing address matters.
1. Security
It is very common for solo attorneys to have a home office. This keeps overhead to a minimum and allows flexibility in their schedules. Using a home address for your home-based business can appear less professional to clients and can be risky depending on the type of law you practice. Even if you practice an area of law that is mundane and not family law or high-stakes personal injury, it is not ideal for opposing counsel or opposing parties to know your home address!
2. Credibility – Getting Clients!
The old-school solution for not using your home address was to get a P.O. Box. This method is still used in remote or rural areas where mail isn't delivered to homes. However, P.O. Box is easy to spot and not as credible.
Using a mail service to have a street address versus a P. O. Box does not solve the problem. When a prospective client does an internet search a map will pop up and show that it is at mailing center. This can lead to them questioning your staying power and professionalism.
The photo on the top is what you get when you do a Google Maps search for the mailing address of the attorneys at Enrich Coworking Community for Lawyers. The photo on the bottom is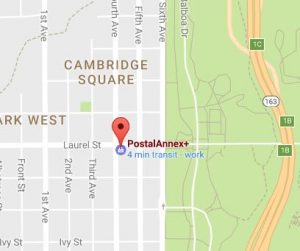 a Google Map search for 415 Laurel St., San Diego, CA. If a client looks up the address they will see that it is a Postal Annex. Perception is everything and landing that client could be the difference between having a "real office" or a P.O. Box.
3. Social Media and SEO
Another reason to have a real street address for your business is so that you can use it on social media sites, including your website. Having an online presence is essential for solo attorneys and small firms. Sites like Yelp, Facebook and Google+ require an address for a company page. You might not think you need these social media sites but they have been proven to be successful in helping lawyers retain new clients. They also increase your SEO – search engine optimization.
In How to Start and Build a Law Practice, Jay Foonberg strongly urges new practice owners to pick their address thoughtfully. The address and location of your mail service will become part of your firm's image. Foonberg also recommends new solo practitioners rent space that comes with all of the amenities of a traditional law firm.
At Enrich Coworking Community for Lawyers, we provide Mail Only service and Mail with Benefits which includes having your profile on our Member Directory with links to your website and LinkedIn profile, conference room rental at member discounted rates, programming, community events, and MCLE events.